Installation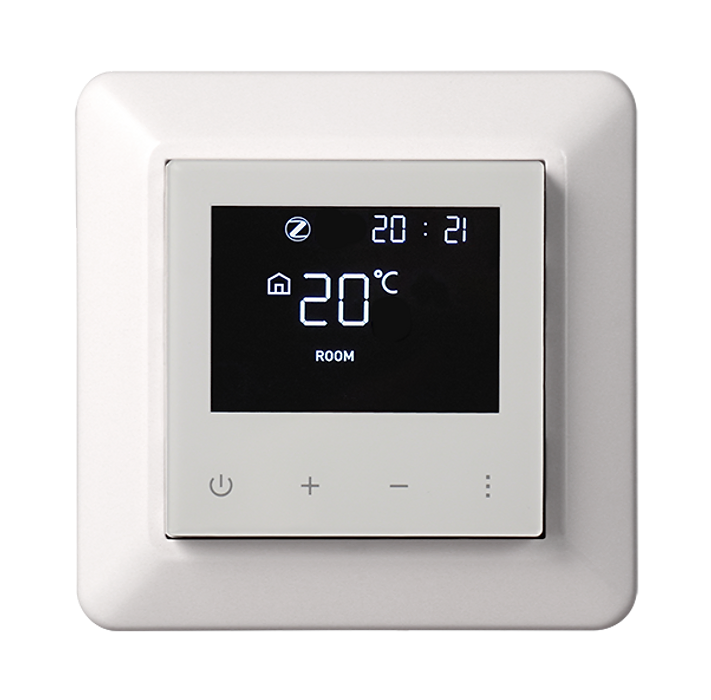 The thermostat must be installed by an authorised installer. The voltage to the thermostat must always be disconnected during installation.
When the thermostat is connected according to the manufacturer's user manual, the thermostat can be included in the Futurehome Smarthub.
Inclusion
To add the device, the Smarthub must be put in inclusion mode.
Open the app → settings → devices → add device → Zigbee → start.
Put the thermostat in inclusion mode by holding down the minus button for 8 seconds. (Zigbee icon flashes on the thermostat).
When the thermostat is found in the app, press "Ok, done!". The device is now at the bottom of your device list. Select it → settings → give it a name, a function, and a room.
If there is an available update on the thermostat, it will start automatically. Do not cut the power to the thermostat while the update is in progress.
Exclusion
Go to settings
→ devices → find the device in the list →
settings → delete.
Configuration
The thermostat has two temperature sensors, an internal room sensor, and a floor sensor. By default, it is set to the room sensor.
Choose the sensor on the thermostat by holding down + and - simultaneously for 5 seconds. You are now in the menu, where setting 01 is the sensor setting.

Press + or - to change the default choice.
0 = internal room sensor
1 = floor sensor
2 = maximum guard*

Confirm with ⏻
*The maximum guard uses the room sensor as a temperature sensor but will cut off the heat if the floor sensor reaches 27 degrees. This is suitable for wooden floors that do not tolerate high heat.
In the app, the thermostat has two channels, where channel 1 contains the thermostat and the selected sensor, while channel 2 contains the sensor that is not selected. For more information see an article about channels.
Power measurement
We have two versions of the thermostat. One with an internal power meter and one without. If you have one without, you will see this by the thermostat reporting 0 W even when it is on. To add consumption, you must first know how much power the floor heating draws and then enter this value.
Go to settings → devices → thermostat → additional functions → enter W. Enter the value in W, not kW. Example: 1800, not 1.8.