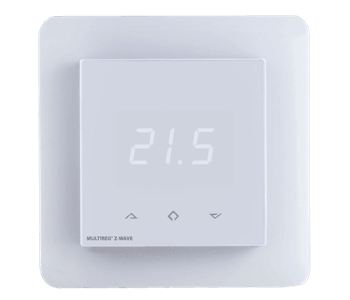 Introduction
The Heatit Z-TRM2fx is a wall-mounted thermostat designed for controlling electric underfloor heating systems.
| | |
| --- | --- |
| Manufacturer | Heatit Controlls |
| EL number | 5430560 |
| Suppliers item number | TF 033 |
| ETIM Class | EC010927 - Room thermostat |
Installation guide
Note: Installation must be done by a certified electrician. Before installation, disconnect any power to the thermostat mains. During the installation, the power to the thermostat must be disconnected at all times.
Install the device according to the manual.
Turn on the voltage to the device.
Open the Futurehome app, go to settings → devices → add a device → Z-Wave.
Select "non-secure inclusion" and "include known devices faster" → start.
Press and hold the centre (confirm) button for 10 seconds → the display will show "OFF".
Press the right (down) button several times until the display shows "Con".
Hold the centre (confirm) button for approximately 2 seconds.
The display on the thermostat will show a rotating circle and then Inc.
After inclusion, find the device in the device list and press "settings".
Give it a name, the correct function and place it in a room → save.
Note: Make sure to use the correct channels. Read more below.
Additional info
Channels
The device has 5 channels:
channel 0: a physical device used for configuration

rename if you prefer, don't place in a room

channel 1: the thermostat

place it in a room in the app

channel 2: external room temperature sensor

if you are using a wired room sensor, place it in the same room as channel 1

channel 3: floor sensor

put this in the same room as channel 1 if you are using a floor sensor

channel 4: a relay

To get energy data, you can create a separate room called "Heating cables" and place channel 4 in this room with the heater function. No other temperature sensors must be placed in this room.
You can learn more about channels here.
Factory reset
To reset a device, press and hold the centre (confirm) and the right (down) buttons for 20 seconds. It will display Res.
Thermostat programs
The thermostat has 2 main programs:
CO (comfort): normal room temperature
ECO (economy): for rarely used rooms and if you are away
To switch the mode press the centre (confirm) button for 2 seconds. It is recommended to always use CO, as the ECO will not let you override the set temperature.
Technical details
| | |
| --- | --- |
| Rated voltage | 230V |
| Power consumption | <2,0W |
| Max current | 13A |
| Height | 87 |
| Width | 87 |
| Depth | 51.1 |
| Communication | Z-Wave |
Documents