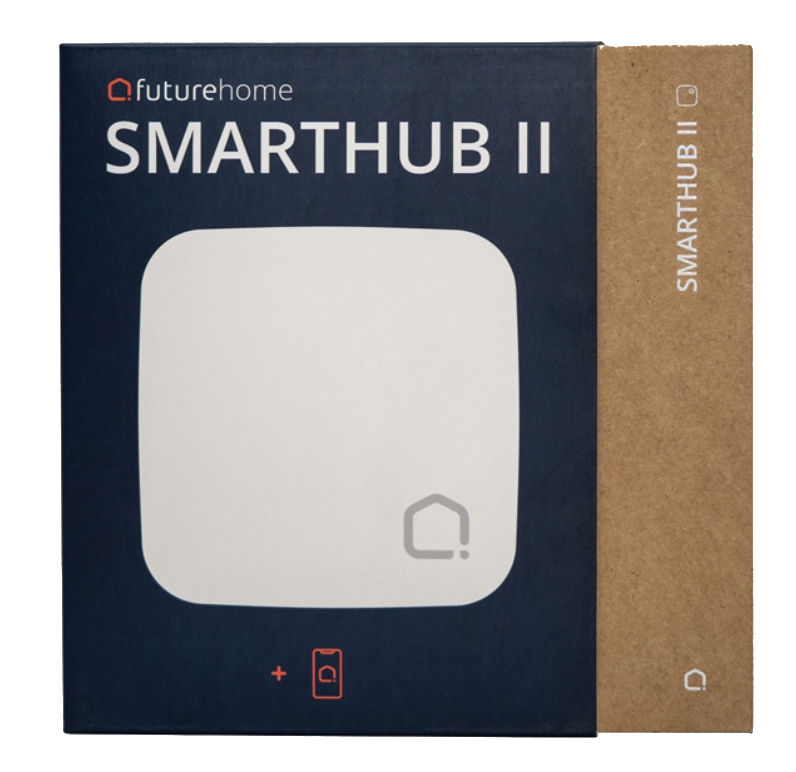 Introduction
Smarthome controller based on Z-Wave and Zigbee, and the heart of your smart home. It connects to the home network, runs Futurehome software and unifies smart devices in your home into a single system, and makes them work together. To install and use Futurehome you will have to use the Futurehome app that can be downloaded free of charge in App Store and Google Play.
A full list of smart devices supported in Futurehome can be found at products.futurehome.io.
| | |
| --- | --- |
| Manufacturer | Futurehome AS |
| EL number | 4500160 |
| Suppliers item number | CUBE-2V0-EU |
| ETIM Class | EC000699 - Central device for bus system |
Installation guide
Connect your new Smarthub to a network and power using the cables that come in the box, make sure the network has internet access. The Smarthub will start automatically when power is connected.

Tip: Install the Smarthub centrally in your home to provide the best radio coverage to wireless devices.


Download the F

utureh

ome app from App Store or Google Play. Create an account or alternatively sign in if you already have an account. You will now be prompted to create your first site. If this is not your first Futurehome, you can create a new site from the settings menu. Fill in the required details and press next.


Now press the 'Add Smarthub' button located on the main screen of your new site. Add your new Smarthub to the site by scanning the QR code located on the bottom side of the Smarthub. Alternatively you can type in the unique ID that is located under the QR code.


Your new site and Smarthub are now configured and you are ready to start adding smart devices to your home. Each device and manufacturer have a slightly different pairing process. You should check the device specification to understand if it is based on Z-Wave or ZigBee radio technology and how you initiate pairing of the device. You should also check the database at

products.futurehome.io

to see if the device is supported by F

uture

home.
Technical details
| | |
| --- | --- |
| Communication | Zigbee, Z-wave |
| Power supply | 5V DC (2.6A, USB-C) |
| IP Class | IP 22 |
| Use temperature | 0-35 degrees C |
| Hight (mm) | 118 |
| Width (mm) | 118 |
| Depth (mm) | 32 |
| CPU | ARM Cortex-A53 |
| Storage | 8 GB eMMC |
| Memory | 2 GB RAM |
Documents