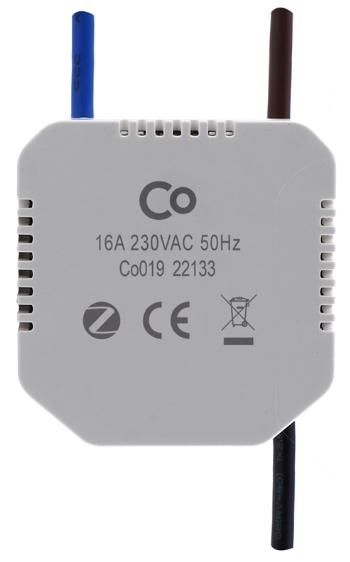 Introduction
Futurehome Smart relay for concealed installation is a relay that can control resistive loads up to 16A. Typical applications are control of water heaters, permanently connected panel heaters, and heating cables. In this way, large costs can be saved by avoiding "rush hour" prices on the power grid. Hot water and electric heat sources are controlled according to rules based on electricity price or time of day / calendar.
| | |
| --- | --- |
| Manufacturer | Futurehome AS |
| EL number | 4500721 |
| Suppliers item number | Co019 |
| ETIM Class | EC001588 - Electronic Switch |
Installation guide
Install the relay according to the wiring diagram.

In the Futurehome app, go to settings → devices → add device → Zigbee → start.
Press and hold the pairing button on the relay for 5 seconds. When you release, the button should flash blue.
When the app finds the device, press "Ok, done"
Click on the relay in the device list and then press "Settings".
Give the relay a name, the correct function and place it in a room → save.
Factory reset
To factory reset, press and hold the pairing button on the device (or the external switch) for 5 seconds.
Technical details
| | |
| --- | --- |
| Load | 16 A |
| Effect | 3600 W |
| Voltage | 230 V AC |
| Height (mm) | 47,5 |
| Width (mm) | 46 |
| Depth (mm) | 25 |
| Communication | Zigbee 3.0 |
| IP | IP20 (indoors) |
Documents