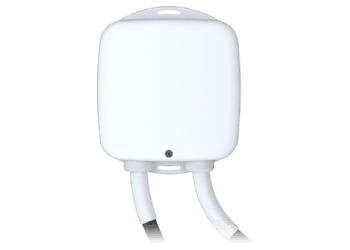 With the Aeotec Heavy Duty Smart Switch, you can remotely control power consumption of up to 40 amps through the Z-Wave network. This device also comes with an integrated energy meter function that allows you to monitor how much energy is being used. You can save money by monitoring power consumption and turning devices off and on as needed.
| | |
| --- | --- |
| Manufacturer | Aeotec |
| EL number | 4512389 |
| Suppliers item number | 4512389 |
| ETIM Class | EC001097 - Switch actuator for bus system |
Installation guide
The device must be installed by an authorised installer.
Power to the switch MUST be disconnected AT ALL TIMES during installation.
Once the switch is connected according to the manufacturer's user manual, it can be included in the Futurehome Smarthub.
Open the switch cover by removing the screw at the bottom. Then turn on the voltage to the switch.

The LED light will flash red when the switch has not been included

Open the Futurehome app, go to settings → devices → add a device. See more about adding devices here if necessary.
Press the button 1 time.

The app will now show that inclusion was successful. The LED light on the switch will stop flashing. The LED glows steadily when the Relay is active and will not light up when the Relay is off.
Give the device a name, for example "Electric car charger"
Save.
Exclusion
Sometimes you want to delete an included device or re-enter it. To delete the smoke sensor from your Smarthub, you must do the following:
Go to settings → devices → select your device → settings → navigate to the bottom and select delete.
Smarthub is now in exclusion mode.

Press the Action button behind the cover once. The device will now be deleted from Smarthub.
Technical details
| | |
| --- | --- |
| Voltage | 230VAC 50Hz |
| Power consumption | 1W in standby mode |
| Max. load | 40A (resistive load) |
| Height (mm) | 50 |
| Width (mm) | 180 |
| Depth (mm) | 160 |
| Communication | Z-Wave |
| IP | IP44 |
Documents