Being notified when the alarm goes off is good security to have, but what if your smart home could do even more during the minutes that really count? With Futurehome's fire alarm service, the system will do everything it can to limit the damage and assist with evacuation when the incident first occurs. The system can automatically turn off all appliances in the household, turn on all lighting, activate sirens and keep the water faucet open even with water on the floor, so that the fire hose does not run out. The app quickly gives you an overview in which rooms smoke has been detected, as well as an overview of other important events.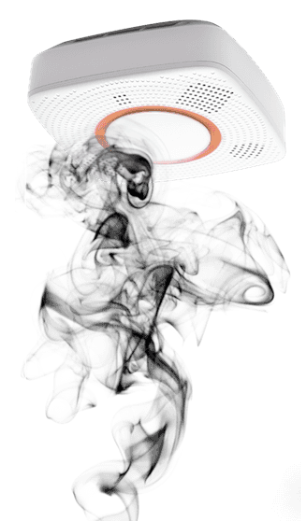 Customisation of what should happen in the event of a fire
When the service is activated, you can choose what should happen with:
Lights
Appliances
Climate
Siren
By default, all lights will turn on, sirens will be activated, heat sources and appliances will be turned off.
Once the fire alarm has been set up and customised, it is a good idea to test the fire alarm to verify that everything is working as intended. When you click "Test Alarm", a window will appear that allows you to confirm that you actually want to test the fire alarm. Remember that when you run the test, all sirens that are set to go on will start beeping (if your device supports this. For example, the Fibaro siren does not support this).
During an actual event, the fire window will take control of the entire app. You can turn off sirens and shut down the alarm by clicking "False alarm".
If someone confirms an alarm, others with access to the same household will see that it is a confirmed event in the timeline. The log will list events relevant to a fire, such as high temperature, detection of fire in other rooms, windows or doors that are opened, rooms with movement, etc.
If you click "False Alarm" and a detector still detects smoke, the fire alarm will reappear. If you have version 40 or later of Futurehome's SDCO smoke detector, you can deactivate it for five minutes by pressing the button on the front of the detector.
Notifications
The push notification of the fire alarm is activated by default. As a user, you can choose not to subscribe to push notification about fire. This is done under push notification settings. Read more about push notifications here.
Activation/deactivation of the fire alarm service
Inside the alarm section, you get an overview of whether the local fire alarm service is activated or not. At the bottom of the screen, you can choose to deactivate the service, or to activate it again after you have deactivated it. Only the owner, or users with full access to a household, can deactivate the actual fire alarm service. Disabling the local fire alarm service will also disable the serial connection between wireless fire alarms. It is recommended to have this service enabled.