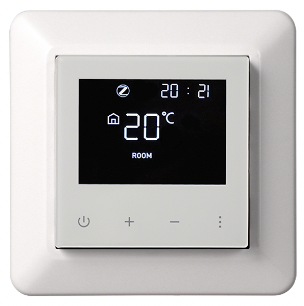 Introduction
Futurehome Smart Thermostat is fitted to Norwegian wall boxes and installation systems, which makes it easy to switch from conventional thermostats to a smart solution. The thermostat is compatible with 10, 12, 15 and 47 kOhm sensors and can withstand loads of 16A / 3600W.
Manufacturer
Futurehome AS
EL number
4501390 (white)
4501391 (black)
Suppliers item number
Co002 (white)
Co015 (black)
ETIM Class
EC011309 - Room thermostat with clock
Installation guide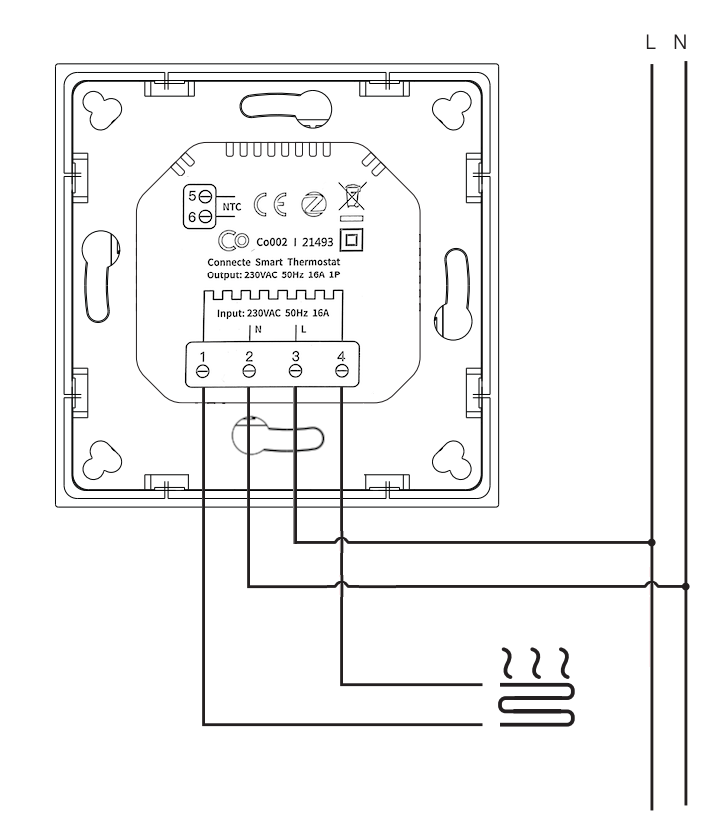 Install the thermostat according to the wiring diagram.
In the Futurehome app, go to settings → devices → add device → Zigbee → start.
Press and hold the minus button on the thermostat for 8 seconds. The Zigbee icon should start flashing on the thermostats display.
When the app finds the device, press "Ok, done"
Click on the thermostat in the device list and then press "Settings".
Give the thermostat a name and place it in a room → save.
Settings on the thermostat
To open the menu on the thermostat, hold (+) and (-) together for 5 seconds. In the menu, numbers displayed represent each setting. To edit the setting, press (...). Then change the value of the setting with + and -, and save with the power button.
Sensor type:
0 - Internal room sensor
1 - Floor sensor
2 - Max guard (regulates based on air temperature, but has a maximum limit on the floor sensor. This is suitable for e.g. wooden floors).
Floor sensor type:
0 - 10 kOhm (supplied).
1 - 12 kOhm
2 - 15 kOhm 3 - 47 kOhm
Max guard temperature: 20-95°C. Standard is 27°C.
--: No limit.
Hysteresis: 1-9°C. Standard is 2°C.
Calibration: -9 to +9°C. Default is 0°C.
Highest set point: 35-90°C. Standard is 35°C.
Lowest set point: 0-30 °C. Standard is 5°C.
Home mode set point: (This is a mode on the thermostat, not in the app, and must not be confused). Standard is 22°C.
Away mode set point: Standard is 15°C.
Brightness of the display in sleep mode: 1-10. The default is 1.
Open window detection:
0 - disabled
1 - enabled
Restarting the thermostat: Select == and wait 5 seconds.
Factory settings: Select == and wait 5 seconds.
Technical details
| | |
| --- | --- |
| Load | 16 A |
| Effect | 3600 W |
| Voltage | 230V AC |
| Hight (mm) | 56 |
| Width (mm) | 56 |
| Depth (mm) | 24 |
| Depth (mm) | 32 |
| Communication | Zigbee 3.0 |
| IP | IP20 (indoors) |
Documents