All of the devices supported in Futurehome is easy to install, configure and set up. There are still precautions to be taken to ensure that the installation is as smooth as possible.
One should have an overall view of radio range and planning range, for detailed information see here.
As a "rule of thumb" one should place the Smarthub in the homes most central position to allow radio signals being transmitted in all directions of your home to be able to directly control as many devices as possible. The same placement philosophy used for most WiFi routers today should be used on the Smarthub as well.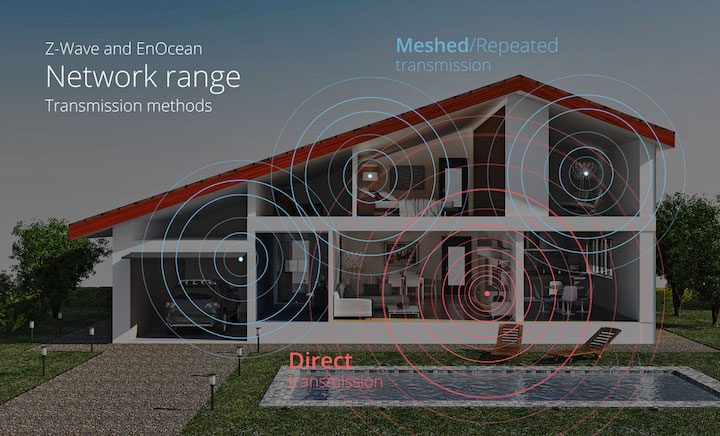 Both EnOcean and Z-Wave has repeating and mesh extending networks respectively. This ensures that the network is expanded further than the reach of the antenna in the Smarthub with direct communication with devices.
If you are setting up a complete home or just installing a couple of products one should always start the inclusion process on devices closest to the Smarthub and work your way out. You should never start including a device in the far end of the house furthest away from the Smarthub.
"Start from center and work your way out"
The Futurehome Smarthub is a Static Z-Wave and EnOcean controller which is designed to be installed in a fixed location in a home and not relocated. You should also not temporarily relocate the Smarthub to include new devices.
If you are forced to control devices outside direct reach of the controller then it is recommended to eiter relocate the Smarthub to a new permanent location or to buy additional components in the system to expand the network. Most constantly powered devices like actuators, wallplugs or light bulbs can extend the radio network.
As soon as a device has been included to the system you should check and evaluate its functionality. Does it work as intended does the Futurehome app work as intended? Can you control the device both from a switch and from the application? If you include any sensors to the system all sensor data should be evaluated to ensure the device is performing as it should. The sensor data should change with any environmental change when the device reports it's state to the controller. Depending on the device type and how it is powered the reported changes to the controller may be at intervals exceeding 15 minutes.