Introduction
In this article you will find everything you need to install and configure a Fibaro Single Switch 2, FGS-213 with Futurehome
About Fibaro Single Switch 2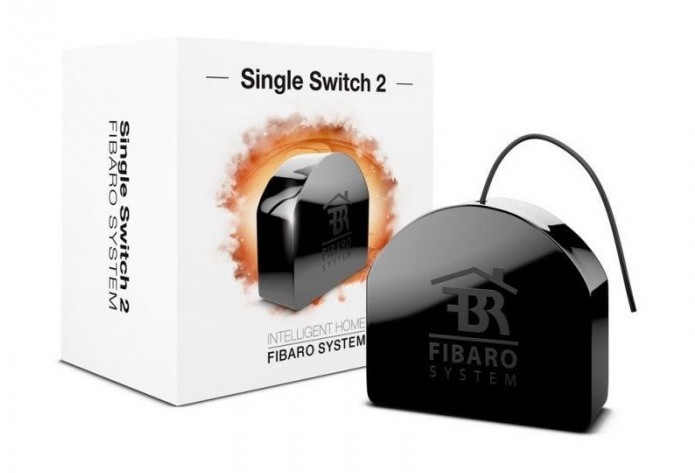 Fibaro Switch 2 is designed to be installed in a standard wall box or anywhere you need to control an on/off circuit. The device let's you control devices ON/OFF either via switch or Futurehome. The unit measures power consumtion. Single Switch 2 can be set up to use multiple types of switches both on/off and pulse.
Risk of shock!
Incorrect installation of this unit may result in fire or electric shock.
Installation must be done by a certified electrician or approved installer. Laws and regulations for electrical installations must be followed.
The device has live components when the load is turned off. All maintenance must be done on isolated curcuits.
Supported loads
Only supported loads according to the manufacturer's instruction can be used.
When connecting Single Switch 2, make sure:
Traditional incandescent bulbs
Halogen bulbs
Electrical appliances that do not exceed the maximum recommended power supply supported by the unit.
Info:
The unit cannot be used on fluorescent lamps or other devices with teeth.

Never connect higher loads than recommended.

Never connect different light sources to one device at the same time.
Do not connect the supply without a load connected.
Recommended maximum current draw for supported loads:
Supported loads: 220-240VAC (IEC)
Resistive load: 8A
Incandescent lamps: 8A
Connecting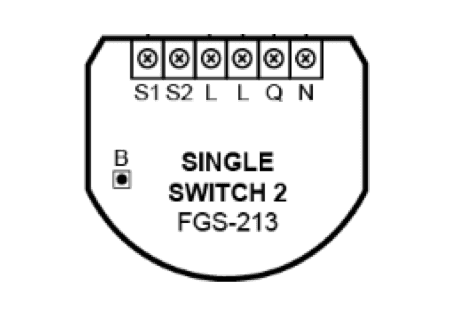 L - Phase managers
S1 - Connection for switch 1
S2 - Connection for switch 2
N - Neutral conductor connection
Q - Output level of the load to be controlled
B - Function switch Used for inclusion / exclusion and navigation in the device's built-in function menu
Device installation
Isolate the circuit by turning off the fuse.
Remove switch and open the wall box.
Connect the device according to one of the connection instructions that corresponds to your system.
Double check and verify connection and that all leads are properly tightened.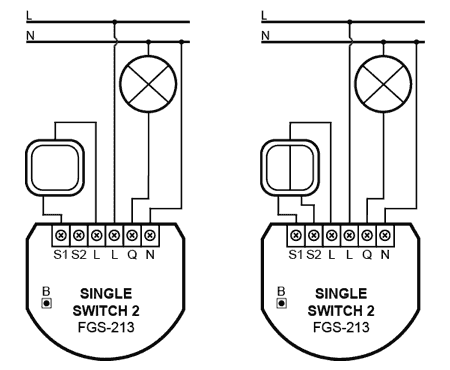 Inclusion
You always start including devices closest to the hub and work outwards, this will help build the network.
Turn on the power to the device.
Open the Futurehome app, choose Settings - Devices - + Add new Device - Z-Wave.
Start inclusion on the Futurehome App, for more information go to this article.
Select "Add a Z-Wave device" then "Normal inclusion" and leave "include known devices faster". unchecked (If the device does not work properly, try to learn the device without "learning known devices faster" being ticked off).
Press the "B" button quickly or three times within 1.5 seconds or the connected switch on the S1 input.

It should appear "Device Found, Configure" (press more than 3 times, 3-10 if not included).

The unit will show up with 3 channels, use channel 1 and not channel 0. Channel 0 should be left without room and without functionality. Device channels are available during advanced setup. See more about what the different channels are below.

Name your device, such as "Ceiling lights".

Specify in which room it is mounted.

Then press Save.
Channels
When including a Fibaro switch it will appear with 3 channels:
Channel 0 is the main unit itself, where association, parameter and settings are set on units.

Channel 1 is the switch itself, this channel is to be used in the app for controlling connected load, eg a light.

Channel 2 is the S2 input on the unit. If you have a switch connected to S2 you will be able to use association to wirelessly control one or more other devices. In the future you will also be able to use this input to set mode and shortcut eg.
Testing the device
As soon as the unit is included in the system a quick test should be run. Turn the appliance on/off with both the switch and Futurehome app.
Change type of switch
By changing parameters 20 to 0 one can use pulse spring switch rather than OFF / ON switch.
Deletion/Exclusion
Sometimes you want to delete a learned device or re-insert it. To delete the device from your Smarthub, do the following:
Go to settings.

Press devices.

Remove device.

Start exclusion.

Smarthub is now in exclusion mode; Quickly press 3 times within 1.5 seconds on the "B" button or connected switch on the S1 input. The device is now deleted from Smarthub.
Start over again to add it.
Reset
When the device is deleted (excluded) from Futurehome Smarthub, it will be reset to factory settings. However, should you have problems with the device you will be able to reset it without using Futurehome Smarthub. Note that if it is learned in Smarthub, it will "hang" again in the system if it is not deleted (excluded) first.
Turn off the device fuse.

Remove the device from the box.

Turn on the fuse again.

Press and hold the B button to enter the function menu.

Wait for the LED light to turn yellow.

Slipp rask B-knappen og trykk den inn en gang igjen.After a few seconds, the unit will restart, indicated by a red LED light.
More information & Parameter
More information and a list of all parameters can be found here.