Inclusion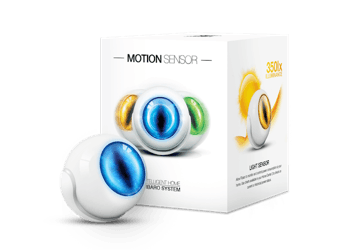 Start the inclusion in the room where the sensor will be located. Open the sensor's back cover by twisting the two halves apart.

Remove the paper so the battery can power the device, the front of the device will light up for a moment.

Start inclusion in the Futurehome app. You can find more information about inclusion here.
Put the device in inclusion mode with a triple click on the button. I

If the sensor stops pulsing blue during the inclusion without the application proceeding, triple click once more to wake up the sensor.
The app will now show that inclusion was successful.
The sensor will continue to pulse blue for a few seconds after inclusion.
Give your motion sensor a name, e.g. "Motion sensor".
State in which room it is installed.
Save.
Deletion/Exclusion
Sometimes you want to delete an included device or re-enter it. To delete the flood sensor from your Smarthub, you must do the following:
Go to settings → devices → select your device → settings → navigate to the bottom and select delete.
Smarthub is now in exclusion mode.
Press three times the same button as during inclusion.

Reset
Resetting a device should only be done if it is not possible to exclude it from the system.
Press and hold the B button for 4-6 seconds, the LED light should glow yellow.
Release the B button.
Press the B button once to "select" yellow light, and reset the device.
If the reset was successful, the sensor will light up red.
Buy online: Fibaro Motion sensor
User Manual: Fibaro Motion sensor manual