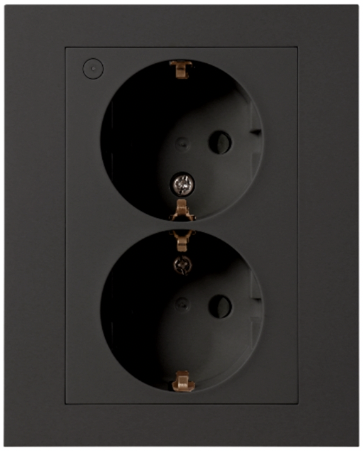 Introduction
The Futurehome Smart Socket is a double schuko socket where one outlet can be controlled either wirelessly or with the push-button.
Note: This low-profile socket requires a 1.5 wall box.
| | |
| --- | --- |
| Manufacturer | Futurehome AS |
| EL number | 4501395 (black) |
| Suppliers item number | Co016 (black) |
| ETIM Class | EC000125 - Socket |
Installation guide
Install the socket according to the wiring diagram.

In the Futurehome app, go to settings → devices → add device → Zigbee → start.
Press and hold the button on the socket for 5 seconds. When you release, the button should flash blue.
When the app finds the device, press "Ok, done"
Click on the socket in the device list and then press "Settings".
Give the socket a name, the correct function and place it in a room → save.
Reset
To reset the device, press and hold the pairing button on the device for 5 seconds.
Technical details
| | |
| --- | --- |
| Load | 16 A |
| Effect | 3600 W |
| Voltage | 230 V AC |
| Hight (mm) | 103 |
| Width (mm) | 84 |
| Depth (mm) | 52 |
| Communication | Zigbee 3.0 |
| IP | IP20 (indoors) |
Documents